Lets' do this by descending weight division, starting with the big boys, shall we?
Antonio Rodrigo "Minotauro" Nogueira vs. Heath "The Texas Crazy Horse" Herring
Big Nog is a former Pride champion and is currently the #2 ranked heavyweight on the planet for good reason. He's not only beaten Herring twice already (and very convincingly), but his only losses have come to Fedor Emelianenko, Dan Henderson, and Josh Barnett. And I just can't see adding Herring's name to that company.
This fight is a coming-out party for the celebrated Nogueira, and I expect the Texas Lazy Horse to succumb to Minotauro's superior boxing and grappling skills. I really hope that Big Nog finishes this fight and lets the fans and the rest of the division know that greatness is in the building.
Now that I think of it, Big Nog's UFC debut isn't getting the press that it deserves. Big Nog in the UFC is a big deal. Pride fans know what I'm saying.
Tito Ortiz vs. Rashad Evans
I'm really not a fan of either fighter – or this fight – so it's been hard for me to get excited for this one, despite the heavy press. Evans is a renowned wrestler who has shown improved striking against Jason Lambert and Sean Salmon, and he told MMAWeekly that he's looking to knock out Ortiz.
For Tito, taking down Evans may prove easier said than done. Then again, I'd be surprised if Ortiz opted to keep the action standing. To his credit, Ortiz has mastered the art of ground and pound (just ask Ken Shamrock), but I've been underwhelmed with his striking against Chuck Liddell (twice) and Forrest Griffin. Then again, Rashad isn't the puncher that either Liddell or Griffin is, so if Tito can sprawl and brawl with Rashad and land some of those powerful hooks, this could be interesting.
I see this one going to a decision, and if it's really close, Tito will get the win. The UFC and the LHW division don't need him to be in title contention, but a Tito win is definitely good for business.
Stephan "The American Psycho" Bonner vs. Mike Nickels
While neither fighter is a legitimate contender at the moment, this has the makings to be an exciting fight. Both have shown a propensity to slug it out, but I've been much more impressed with Bonnar's overall game. I expect the Chicago native to overwhelm Nickels with crisp boxing and damaging leg kicks and finish him by any means necessary.
Nate "The Great" Marquardt vs. Anderson "The Spider" Silva (Middleweight Championship)
Marquardt has an uncanny ability to smother and negate a fighter's game plan, but I think that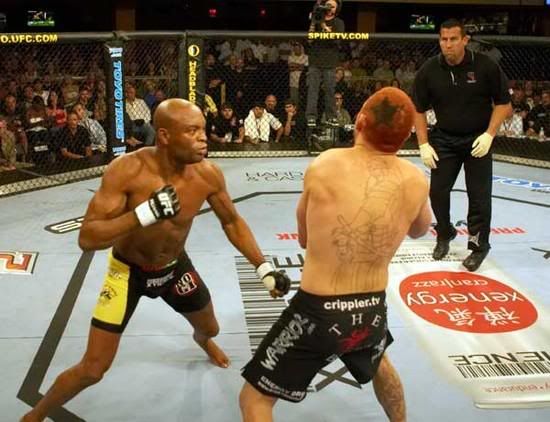 Silva brings a cache of kicks, punches, elbows, and submissions that will be too much for Marquardt.
Rich Franklin and Chris Leben are powerful strikers. Silva outstruck them both - badly! Travis Lutter is a great Brazilian jiu-jitsu fighter. Silva submitted him - from his back. He's had an answer for everyone he's faced in the octagon so far, and he's faced tougher opposition that Marquardt. Still, I like both fighters and will be a happy man no matter who wins.
For more on Nate Marquardt,
click me
.
Chris "Lights Out" Lytle vs. Jason "The Gizzard" Gilliam
First of all, "The Gizzard" is an amazing nickname. You don't necessarily need to agree; it's a fact. Gilliam (9-1) had won his first eight MMA fights all by KO or submission, five of which ended in Round 1. Lytle, however, is a big step up in competition for Gilliam, and looked solid against Matt Hughes. I was very impressed with Lytle's boxing and ground fighting against Hughes, and I expect the Indian native to turn the lights out on Gilliam and get back on the winning track after four straight UFC losses.
Sean "The Muscle Shark" Sherk vs. Hermes Franca (Lightweight Championship)
In all honesty, I don't love Sherk as lightweight champ. He's a welterweight (and a damn tough one) who shed some pounds and managed to outmuscle Kenny Florian for the belt, despite being busted up pretty badly. Franca, meanwhile, possesses a much more well-rounded game than the champion.
Franca is a Brazilian jiu-jitsu black belt and former WEC lightweight champ who's captured KO wins over Spencer Fisher and Caol Uno. He's got power in his hands and top-notch groundfighting skills, but will it be enough? Sherk's most recent wins have been over Nick Diaz and Kenny Florian, both of whom have more complete games that Franca.
I'd love to see a new lightweight champ crowned on Saturday, but I just don't know how Franca will handle Sherk's relentless wrestling, suffocating power, and ability to take a big shot.
Kenny Florian vs. Alvin Robinson
Kenny Florian is a Boston College alumnus, Brazilian jiu-jitsu black belt, and a highly decorated grappler with very dangerous elbows and vastly improved Muy Thai attacks. In Robinson (8-1), Florian faces a former wrestler and Ring of Fire lightweight champ who won all of his first eight fights by choke. Look for Florian to outclass an overmatched Robinson and put himself back in the lightweight championship scenario.
Frankie "The Answer" Edgar vs. Marc Bocek
I want very badly for Frankie Edgar to win this fight, and it sickens me that this fight may not be televised. Against Tyson Griffin, Edgar put on an amazing show, transitioning from one element of MMA to the next almost seamlessly. He never stopped fighting and proved to be too much for the heavily-favored Griffin.
This time, Edgar faces an undefeated Mark Bocek, who's managed to finish all four of his opponents in the very first round. Bocek is World Cup BJJ champ, 3-time Pan Am medalist, a 2007 ADCC trials champ, and a NAGA champ. And Frankie Edgar is a badass who beat up Tyson Griffin. This has the making to be another showstopper, folks.
Jorge Gurgel vs. Diego Saravia
I've never been terribly impressed with Gurgel as a fighter, and I feel like I should be. He holds a black belt in Brazilian jiu-jitsu and has competed professionally as a kickboxer. That said, I'm assuming that his decision win over Danny "I'm an Ultimate Fighter!!!" Abbadi was due to a nagging knee injury he'd been dealing with. Either way, I expect to see a healthy, dynamic Gurgel outlast Saravia, a Brazilian jiu-jitsu black belt with much less refined striking skills.
The Kodiak vs. 10 White Castle Cheeseburgers & Fries
The Kodiak has dropped down to middleweight and has needed very little training for this challenge. In the past week and a half, he's put down at least 5 cheeseburgers for lunch several times under rather hostile conditions at the White Castle in Jamaica, Queens. Most notable was last Tuesday's performance, when he put away 7 cheeseburgers, an order of fries, and an order of chicken rings without taking a single sip of his drink. Expect another dominating performace by The Kodiak, who's poised to take on a much greater chanllenge.