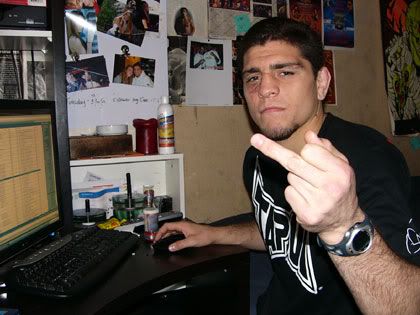 Nick "Reefer Madness" Diaz chatted with fans today on the ProElite.com forums. Overall, there weren't nearly as many gold nuggets as I had expected from Nick, especially since it was just him and his fans, but it was still pretty entertaining. Here are some of the more memorable replies from the man himself:
- Fighting my brother is ridiculous. I'm going to fight when I fight. I love my brother.- I prefer smoking it (weed) or vaporizing it, because when you eat it sometimes you hallucinate.- At 170lbs, my personal top 5 would be: Matt Serra, Georges St. Pierre, Matt Hughes, Jake Shields and Josh Koscheck.
-
I never said that the UFC was corrupt, but the whole sport is pretty corrupt in general. Not as much as boxing, but still very corrupt.
-
People think I have an attitude and because of that they don't like me. People also don't know what's going on with the sport, and then they try to make decisions like they know. Even though we're all still learning. Even the people who fight. People can act like freaks and geeks, but when I'm the mean guy I'm doing something wrong. Everbody else is acting. What if I was too? It's all the marketing image. - Karo was a pussy to my brother. I wonder when he's gonna fight again. Karo wouldn't have said anything to my brother if I was there. - BJ is probably technically the best fighter in MMA...- The heaviest puncher I've fought is Jeremy Jackson, hands down.
Jeremy Jackson hits harder than Gomi??? Wow...