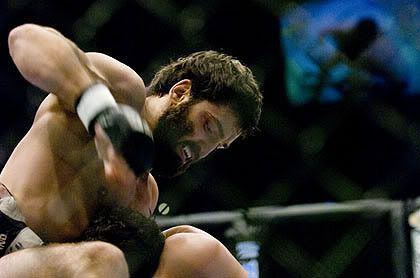 It's now been over five months since Andrei "The Pitbull" Arlovski defeated then top-ten heavyweight Fabricio Werdum at UFC 70. It wasn't pretty and it wasn't exciting, and as we all know (because Dana White told us), a lackluster or uninspired effort in the UFC's talent-laden heavyweight division will work against a fighter. Even if he wins.
Since sticking and moving his way past Werdum, Arlovski has barely been a blip on the radar, his name not even finding its way through the rumor mill. He'd been promoting his Pitbull Series signature Soyo LCD HDTVs, and he recently made a guest appearance on
The Jerry Springer Show
. But as for returning to the octagon...nothing.
Pitbull, I'm speaking directly to you now. I saw you on Springer. You seemed to be in shape, and I liked the fashionable mullet thing you had. Here's an idea: stay off of day-time TV, stop waxing your chest, grow out the beard, and start working aggressively to get back in the octagon. The Brandon Veras and the Rodrigo Nogueiras of the division are already looking at you in the rear-view mirror, so giddyup.
You and I are both handsome, hairy 28-year-olds whose families come from Minsk. You've been a favorite fighter of mine since you first came to the UFC, and I need another reason to keep explaining to people why you're one of my favorites. Don't make me look stupid.
Speaking of which, I read a release in which explained your recent
Jerry Springer Show
appearance: "I love Chicago and did not know Jerry Springer filmed here. When I was asked to be a special guest on the show, it sounded like it could be fun for me and my fans."
Know what else would be fun for your fans? Watching you kick the shit out of someone!
I'm sorry, Andrei. I don't mean to yell. Besides, if there's a silver lining to the inordinate amount of time that you've been without an opponent, it's that you don't seem to have any of the financial woes that (indirectly) drove Hermes Franca to steroids or that compel Butterbean to fight 5 times in seven months.
And speaking of money, I'm hearing things, specifically that you have one fight left on your contract and that you're asking for a big pay raise. I don't want to mention that 1) you're 2-2 in your last 4 UFC fights, 2) you didn't exactly set off any fireworks in your last win, and 3) the UFC can make big-time heavyweight matches without you. So I'll let someone else bring that up.